The Switzerland Innovation Park Biel/Bienne brings together companies, researchers, and specialists. Its state-of-the-art infrastructure creates an attractive innovation ecosystem that is also intended to form a bridge between the French-speaking and German-speaking parts of Switzerland. Embedded in an application-oriented research environment and at the heart of industrial Switzerland, Biel/Bienne is a breeding ground for solutions tailored precisely to the specific technological needs of industrial companies.
The Park Biel/Bienne offers a full range of services for taking products from idea to market maturity and a high-quality research infrastructure for developing and producing prototypes and small series. It also serves as a development testing ground for industrial companies of any size.

Innovation platform for the high-tech industry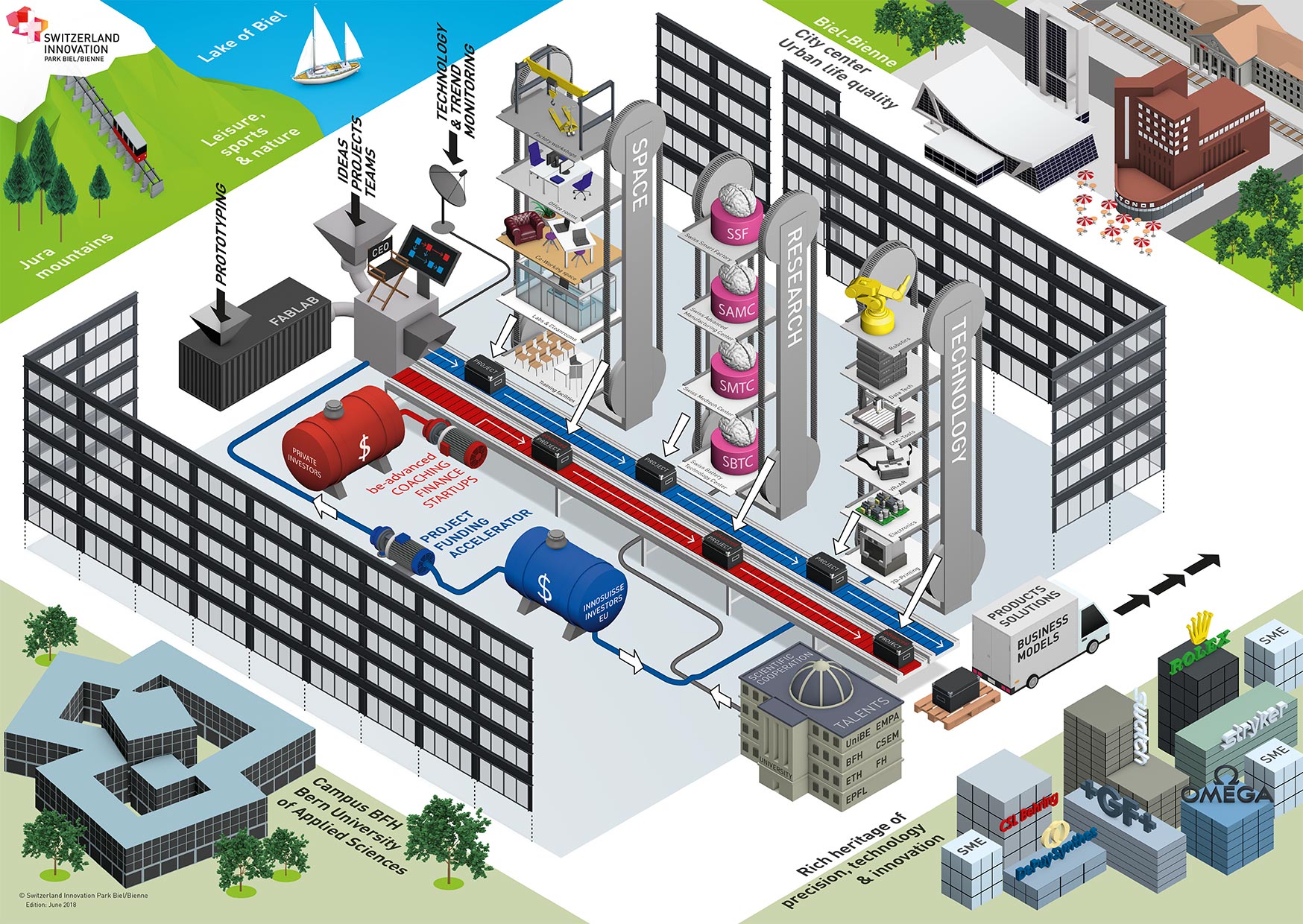 The Switzerland Innovation Park Biel/Bienne will significantly boost the attractiveness of the Canton of Bern as a research and business hub and will make a substantial contribution to promoting innovation at the national level. The Park Biel/Bienne can tap into the strong industrial potential in the Bern region, which boasts a higher density of high-tech companies than anywhere else in Switzerland. The Park Biel/Bienne will help industrial companies from the Canton of Bern to play an even stronger role in the world markets in future. SIPBB comprises the following four research centers:
Swiss Smart Factory
Switzerland Innovation Park Biel/Bienne is opening the Swiss Smart Factory, the first Swiss testing and demonstration factory focusing on the topic of Industry 4.0. The Swiss Smart Factory enables businesses to take their first steps towards Industry 4.0. SMEs in particular are often lacking the necessary resources to implement these new, technically demanding processes.
Swiss Healthtech Center
At the Swiss Healthtech Center (SHTC), representatives of research, medicine and industry work on interdisciplinary innovation projects in the fields of medical technology and health technology.

Swiss Advanced Manufacturing Center
The Swiss Advanced Manufacturing Center provides professional support for applied research in advanced manufacturing technologies with a focus on metaladditive manufacturing with lasers.

Swiss Battery Technology Center
The Swiss Battery Technology Center (SBTC) aims to offer its customers end-to-end system development in energy storage.